WILDNATURE - ONGOING 2020/21
with Anja Gysin and Verena Holscher
"Between the head and feet of every human lies a billion miles of unexplored wilderness. If you want to give birth to your true self, you must dig deep into that Body and let your soul haul." Gabrielle Roth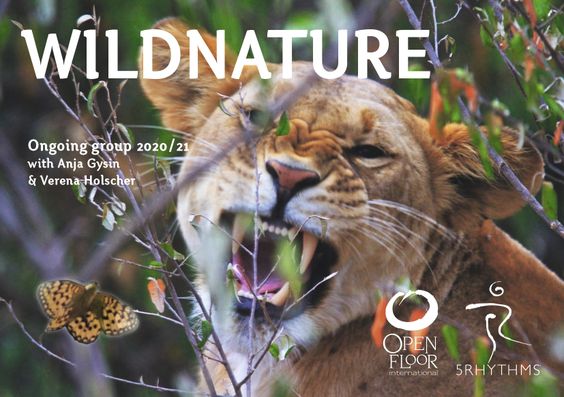 All of us carry a wild free being within us that is difficult to name: let's call it our WILDNATURE. Full of creativity, healthy instincts and deep knowledge. But all this does not come out so easily. Because our conditioning often buries the wild in us and the structure of Society benefits from the fact that we devalue and make ourselves small. Our true greatness is not supported.
This ongoing group invites you to connect with your resources deep within you and far beyond, to root them within you and to possess them (again). To make the essence within you shine and to be present for your wishes and visions in the changeability of life - on the dance floor as well as in everyday life.
With the help of the power and wisdom of the 5 Rhythms and the universal movement resources from the Open Floor Movement Practice we dive into the richness of being together in a closed group. We create a safe environment, embedded in compassion, to explore curiosly and express our inner life.
The Seminarhaus Galleli is located close to nature in the UNESCO Biosphere
Entlebuch and is easily accessible by public transport. Both the lovingly
converted farmhouse with seminar room, bedrooms and common rooms and the beautiful surroundings with sweat lodge and fireplace provide us with a
protected, inspiring environment for our voyage. www.galleli.ch
Anja Gysin & Verena Holscher are sharing a Deep friendship and the desire to create spaces for transformation: change. Both have been teaching movement and dance for a long time and complement each other
in silence and power, breadth and depth, sensuality and development.
Dates:
1st module: 4 - 6 September 2020 - TAMED WILDNATURE
2nd module: 30.Oct. -1.November 2020 - LOOKING INTO EYES OF THE WILD
Module 3: 8 - 10 January 2021 - UNTAMED WILDNATURE
Module 4: 5 - 7 March 2021 - WILD DREAMS
Module 5: April 30 - May 2, 2021 - ESSENTIAL POWER
Costs for all 5 modules:
Early bird (paid up to 30 June 2020) 1100CHF
Normal price 1250CHF
Solidarity price 1500CHF Plus
If the finances are an obstacle - contact us, we will find a solution. Discount for 5R & OF teachers
Board & lodging 180CHF per module
Registration HIER
Info: Anja Gysin, 0041 (0)77 4880879